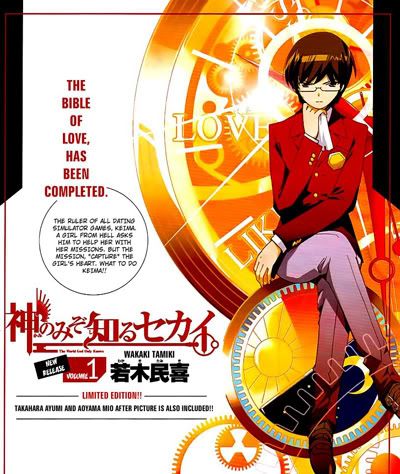 Katsuragi Keima is known on the net as the god of getting the girls while in real life he's known as otamegane and he hates all real girls. However he is approached by Elsee, a devil from hell, to help her in catching runaway spirits that hide in people. Apparently the spirits only hide in the hearts of girls and the only way to get the souls out is by making the girl fall in love so the spirit gets forced out. And he's not allowed to fail or he will lose his head.
________________________________________________________________________________
not an ordinary manga plus the essential concept they trying to brought up is rarely seen though it can be harem and not in the same times... not too focus on one gurl only, it's story still can develop more plus Keima's statement occasionally is nonsense but makes sense in the same times lawl... a sudden slapstick is another pinpoint for this series, prepare for some breathtaking comedy :D... also the arts is awesomely nice, nearly masterpiece especially when the special color page include, it is like an anime snapshot indeed...
sometimes i wonder that is the real heroin will appear since Keima just hit a gurl and leave it after the job is done though his hater towards the real gurl is absurd plus i couldn't agree more with that despite he can hold his own real harem himself [bastart!]...
enuff of shitty stuff, so far 32 chapters has been released by Noizy Scanlations and lately, Red Hawk Scanlations faithful released it till now... [

HERE

]